AI to JPG
Convert online and free AI to JPG
Uploaded filetype:
Choose filetype:
Advert:
.ai files are created with the paid software Adobe Illustrator. In order to be able to open these files without Illustrator, a conversion into the .jpg format is recommended.
It's that easy to convert AI to JPG
Upload your AI file
Select the target format (e.g. jpg)
Click Start Conversion
The download starts on the next page
Please note that when converting to .jpeg format, the transparencies in the image are lost. Alternatively, you can select .png as the target format, then the transparency of the .ai file is retained during the conversion. Tip: You can select the resolution (and therefore the file size) of your .jpg file in the "DPI" field. For normal use on the Internet, 150 dpi is sufficient, but for print quality it should be at least 300 dpi.
Guide: Convert AI to JPG online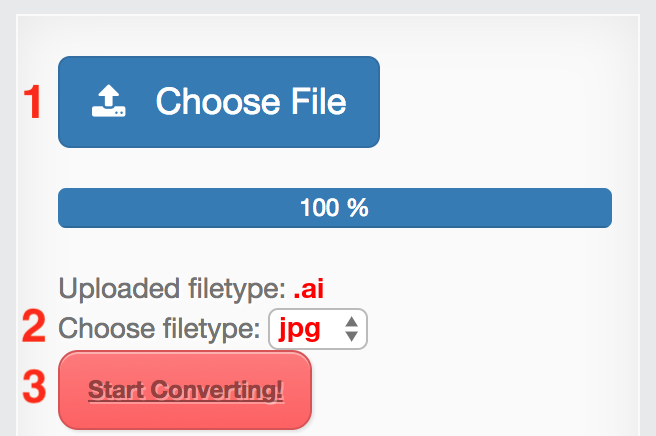 Choose input AI file
Check target filetype and change if required (JPG)
Hit the "Start Converting!" Button
That's it! Your download will start automatically on the following page
Currently we support the following conversions with AI files:
All Converters
Information about the extensions for the conversion from AI to JPG
From: AI
The ai file extension is used by Adobe Illustrator, a vector graphics editor. As a proprietary file format, the ai (Adobe Illustrator Artwork) format is maintained by Adobe Systems. However, it is based on the non-proprietary eps and pdf formats (ai …
File extension:
.ai
More information and converters for AI
To: JPG
The jpg, or JPEG, file format is used for images. It is often used for digital photos, and for images displayed on the internet. It is a common format that can be opened by most computers, tablets, mobile phones, and other devices. Saving an image …
File extension:
.jpg
More information and converters for JPG
Video-Tutorial: AI to JPG
File-Converter-Online.com is a service for converting files online from one type to another. We take care of your privacy and take care of your files. As a part of this, there's no registration required on file-converter-online.com. As we're offering our service in a browser, it does'nt matter whether you use Windows, Apple OS X or Linux. Your conversion results will always be at the same, very high quality and of course, without watermarks.